Wat ik niet zo goed kan is me vervelen, of beter gezegd ik verzin steeds iets vlak voor ik me verveel. Iets!
Ietsen doe ik het liefst buiten, zo ontstaan de Wildsnoeier of mijn wandel drift. Als kind verveelde ik me ook nooit en ging ik ook gewoon buitenspelen.
Ik ga graar ietsen met Stang, Stang zit vol ietsideeën.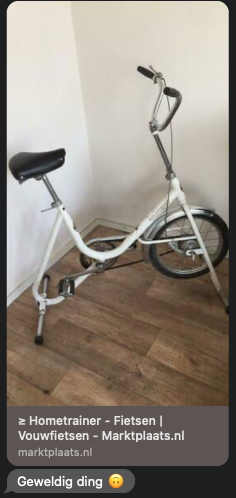 Vorige week stuurde Stang me een linkje naar een hometrainer op marktplaats, door de corona ging er meteen dat belletje rinkelen omdat sportscholen dicht zijn en zo. Maar Stang zei, "Je vraagt je af vanwaar dat spatbord!"

Een SPATBORD op een hometrainer, but WHY!?

…
Lalala dus hij moét naar buiten
UIteindelijk hebben we er twee opgehaald en zijn we er buiten mee gaan ietsen, gewoon omdat dat leuk is.