Nelleke Scharroo en ik zijn gevraagd om tijdens de maand mei de Growing Space Wielewaal te benutten. We gaan er werken aan meerdere kledingstukken gemaakt van knuffelbeestjes. We zullen de kleding aan het einde van de maand dragen tijdens een betoging voor een beter milieu in Den Haag.
De knuffels zijn dragers van een hele hoop emoties en kinderherinneringen maar desondanks belanden ze bij de kringloop, de knuffels zijn geconsumeerd, op!
De kleding die we ervan maken wordt helemaal over de top. Ze symboliseren zelfgenoegzaamheid en hedonisme dat ten koste gaat van anderen en de omgeving. Door voortdurend te streven naar plezier en materiële welvaart ontketenen we een dystopische toekomst, overconsumptie moet stoppen.
Growing Space Wielewaal is een culturele en sociale plek in een kas tov de Eelkmanstraat 26, te Rotterdam.
Wij zullen er elke week op maandag werken, kom langs, drink thee.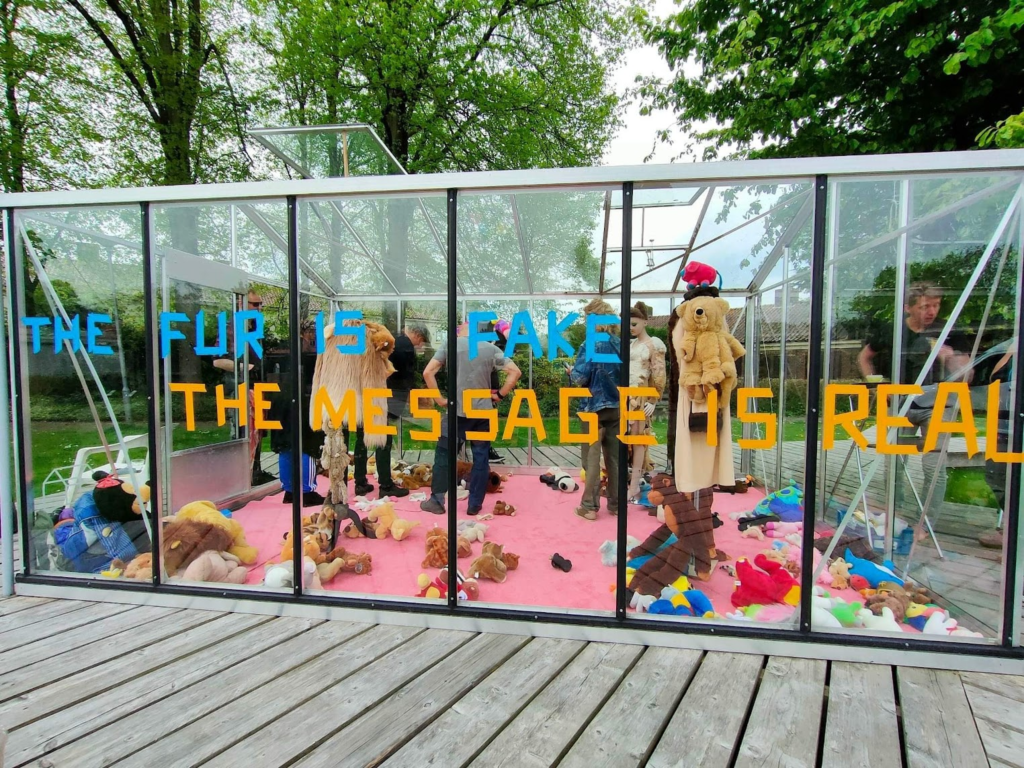 Opening zaterdag 6 mei om 16 uur
Werkbezoeken maandag 8, 15, 22 mei van 12 tot 17 uur
Finissage vrijdag 26 mei om 16 uur
Betoging op de A12 in Den Haag op zaterdag 27 mei
(eng)
Nelleke Scharroo and I have been invited to use the Growing Space Wielewaal during the month of May. We will be working on several garments made from children's stuffed animals. We will wear the clothes at the end of the month during a demonstration for a better environment in The Hague.
The cuddly toys are carriers of a whole lot of emotions and childhood memories, but nevertheless they end up in the thrift store, they are consumed!
The clothes we make from it are completely over the top. They express complacency and hedonism at the expense of others and the environment. By continuously striving for pleasure and material prosperity we unleash a dystopian future, overconsumption must stop.
Growing Space Wielewaal is a cultural and social place in a greenhouse around Eelkmanstraat 26, in Rotterdam.
We will work there every week on Monday, come by and have some tea.