Het is een reeks van 45 lampen in prijs oplopend van 15 tot 59 euro.
De lampen zijn deels Led-filament lamp, deels PET-fles deels glas uit de kringloopwinkel. Elke lamp is een gevalletje apart, ze zijn allemaal verschillend maar wel samengesteld uit dezelfde delen, ze zien er telkens anders uit maar geven evenveel licht. Ze zijn klein, slank, lang, lomp, breed of kort en allemaal uniek. Ze krijgen daarom allemaal een eigen prijs.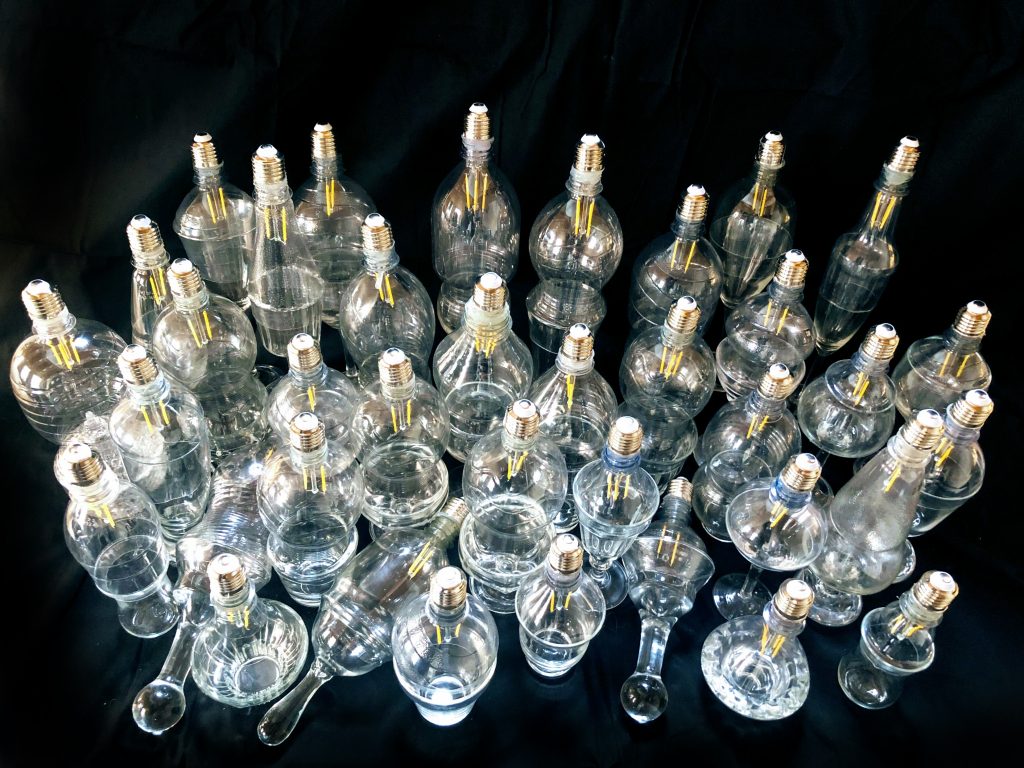 Back story
– Twintig jaar geleden had ik een bedrijfje dat Oli's Lampen heette dat liep als een trein, duizend, ja letterlijk, duizend lampen gemaakt, weggegeven en verkocht.
– Een paar jaar geleden ben ik op zoek gegaan naar een idee om PET te up-cyclen, PET fles plastic is leuk omdat het sterk krimpt als je het verwarmt, ik heb alles wat los of vast zat in PET gekrompen, leuk, grappig, geinig, lollig maar niet nuttig.
– Sinds kort hebben we zogenaamde Filament led lampen die doen alsof ze een gloeidraad hebben, fraai en goed bedacht. Die lampen branden ook zonder glas er omheen, dat schept een hoop mogelijkheden.
– Deze serie lampen vieren ook het einde van het klassieke peertje, sinds de led is er plots zó veel meer mogelijk dan eerder.- Upcycle; Pet is onverwoestbaar, om een petfles een hoger doel te geven maak ik er licht van.